Our Products
Our Products
Carter Pump has become established as a market leader by supplying reliable and rugged products which are exceedingly well engineered while being built and tested to withstand the rigors of wastewater applications.
About Carter Pump
Since 1897
The Carter Pump was introduced to the water & wastewater treatment market by the Ralph B. Carter Company to handle raw and activated sludge and slurries produced during treatment processes. Within ten years Carter Pump extended its product line to include both pneumatic ejectors and diaphragm pumps.
Carter Pump has been installed in thousands of tough and demanding applications involving various sludge and slurries in industrial and municipal facilities. The simple but rugged mechanical design, reduced operating speeds, and quality materials of construction enabled these pumps to provide years and in many cases decades of dependable service.
Learn More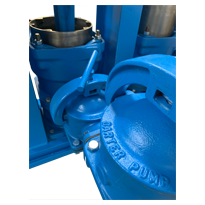 Testimonials
We have utilized Carter Pump pneumatic ejectors in numerous projects throughout the New York City Transit Authority. We came to quickly realize their emphasis on customer service and how quickly and efficiently they responded to our needs. From the time an order was issued to Carter Pump to the turn over of the finished equipment, all were handled with a true sense of professional service. They have defined the meaning of 24/4/365. We shall continue doing business with Carter Pump over other manufacturers on the account of the above mentioned devoted services that are not always offered by other manufacturers.
Dan K.
Project Manager
Rocco Mechanical, Inc.
We would like to thank Carter Pump for the outstanding efforts put forth on the 42nd and 8th Avenue New York City Subway Station. This was a high profile, fast track job with numerous pneumatic ejectors located throughout the complex. In addition, the accommodation repeatedly made by the Carter Pump field service engineer in the middle of the night made it possible to meet our construction schedule. I would like to thank Carter Pump for the high degree of professionalism and we look forward to future working opportunities for both of our companies.
Paul B.
President
Franco Belli Plumbing & Heating & Sons, Inc.
In dealing with Carter Pump I learned that it places a high priority on Customer Service and Satisfaction. Carter Pump stands behind their products and I am please to extend my thanks for the professional and cooperative spirit exhibited by them during our recent business.
Gary C.
Facility Maintenance Supervisor
Maryland Transportation Authority
As the plumbing contractor for the Path Station project at the World Trade Center in New York City we placed an order for equipment with Carter Pump in early December 2002. Within approximately two (2) weeks, Carter Pump personnel had visited the site and full detail submittal drawings were received at our office. The service and professional assistance provided by Carter Pump helped us to maintain our construction schedule on this very high profile project. We would not hesitate to use Carter Pump on future projects and would highly recommend Carter Pump to other contractors.
Michael K.
P.E.
Taggart Associates Corp.
I have found Carter Pumps to be a valuable and reliable company. I strongly recommend their line of pumps and they have great customer services with a field start up team that is very good to work with.
Steven G.
Owner
Goforth Plumbing & Mechanical, LLC
I would like to take this opportunity to express our gratitude for all of the support and attention that you provided during the recent Ejector Pump Station Upgrades Project. Carter Pump has been extremely attentive to our needs, representatives were on site when needed and extremely helpful and professional during installations and start-ups. We could not have had a better experience and we look forward to many years of reliable service.
Douglas T.
Water Resources Division Manager
Town of Palm Beach, Florida
Carter Pump guaranteed that they could meet our very tight schedule and they lived up to their commitment. During the construction phase of our project they provided field support and were able to conduct start-up when requested. Without the commitment and outstanding performance from Carter Pump we would never have been able to meet our very tight contract schedule.
Kurt K.
Secretary/Treasurer
Murray Logan Construction, Inc.
Carter Pump has provided professional service and assistance for the Town of Bay Harbor Islands in maintaining our sewage system for the past 14 years, oftentimes shipping required spare parts within 24 hours. With this well-established working relationship, the Town of Bay Harbor Islands never hesitates to contact Carter Pump in remedying our needs.
Douglas A.
Assistant Public Works Director
Town of Bay Harbor Islands
Contact Us
To contact Carter Pump, please use the form below.